I AM CREATIVE – An In Depth Discussion on Creativity – World Audio Book Launch
April 23, 2023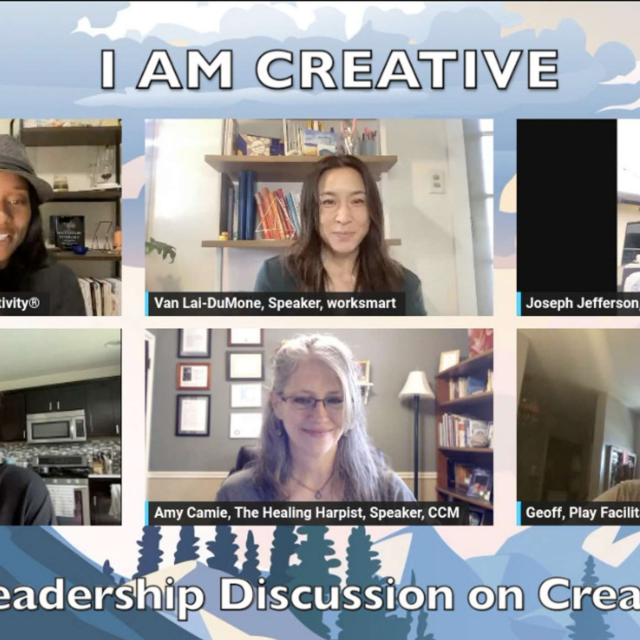 What a perfect time to celebrate creativity and our world premiere of the audio version of I AM CREATIVE! than on World Creativity and Innovation Day! Today we are inviting some of the top voices on workplace creativity and doing something unique with the book.
We are taking this children's book and discussing how these '16 Diamond Tools of Creative Thinking' are major points of concern for the workplace and our nation's creative output. Sometimes the best way to talk about serious issues is through simple childlike prompts. 
Get the paper book here:
Listen to the audio book here:
Thoughts leaders who are joining us are:
Van Lai-DuMone, WorkSmartAdvantage
Joseph Jefferson, Flight Engineer, JPL-NASA
Geoff McLachlan, Play Specialist, Professionals at Play
Amy Camie,CCM The Healing Harpist, Certified Clinical Musician
Keeley 'Lock N Key' Kaukimoce, Dancer, Producer, Speaker
They are bringing these 'simple' ideas and showing us how they show up in business, science, DEI work, team collaboration, leadership and more.
We are also premiering the audio book, engineered and produced by Shayne, to the world. If you already have the book, bring it out as you go through the adventure with adventurous soundscapes!
And don't forget….YOU ARE CREATIVE!
P.S. Shawn 'The Creative Kid' might drop in as well!!
Get the book here:
Resources Mentioned in the broadcast:
Create and Grow Podcast, The Neuroscience of Leadership, with Dr. Micheal Platt, Ep #66
'What If? The Life Changing Power of Curiosity and Courage', TEDx Talk Van Lai-DuMone
TomorrowMind by Dr. Gabriella Rosen Kellerman and Dr. Martin Seligman
'You Are Contagious', TEDxTalk, Vanessa Edwards
'The Hidden Power of Analogy', TEDx Talk, John Pollack
'Metaphorically Speaking' TEDx Talk, James Geary
#creativity #IAMCREATIVE #childrensbook #play #imagination #leadership