How to Build a Creative Culture in a Volatile Unstable Environment for 2021 – Creativity Trainer Anne Jacoby – Episode #46
October 5, 2020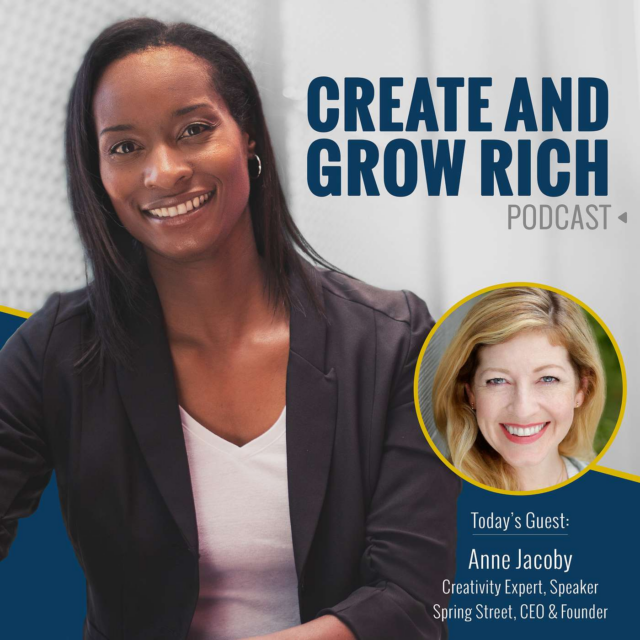 We're already living in the future of work and Anne is getting us ready for 2021!
Anne Jacoby is a top creative thinking trainer who is excellent at helping businesses create the right culture that supports innovation, inclusion and creative thinking.
In this episode you will learn:
Why seeing creativity as a discipline will improve your innovation strategy
How to establish a creative culture within your organization.
How to improve  'inclusion and belonging' with your employees.
Why the arts are critical with improving business skills
Anne is among the best of the best and you will be empowered and informed to take your creative thinking to the next level personally and professionally!
Anne's Bio:
Anne Jacoby is the CEO and founder of Spring Street, a firm on a mission to cultivate more creativity at work. Through workshops and learning programs, employees develop the mindsets and skill sets to build high performing and innovative corporate cultures. Anne is a creative builder.
With an MBA from NYU's Stern School of Business, she brings over 15 years of business leadership, where she has launched and led new offices and corporate functions, and driven cultural change initiatives.
Anne is a former professional singer, actor and dancer, passionate about arts education, and proudly serves on the foundation board of her high school, The Los Angeles County High School for the Arts. She's also mom to her greatest creations: Caroline and Parker. 
This episode is sponsored by CAFFE Strategies, LLC , a global creative thinking development training center.