How Music Will Be An Integral Part of Our Healing Process in 2022 Within Us and Between Us – The Healing Harpist – Amy Camie, Episode # 80
December 28, 2021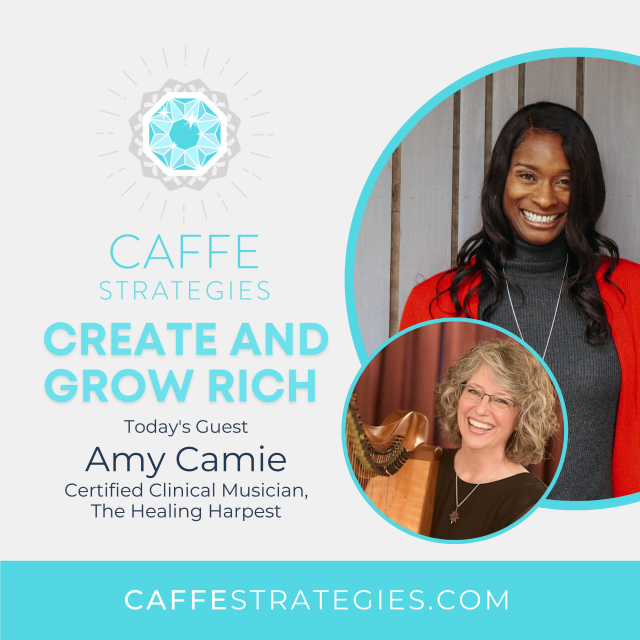 How does the awareness of your level of resonance help you work better with others and within yourself? Can music entrainment, sympathetic vibration and music communication help you improve in life and in business?
How does music heal us?
Amy, The Healing Harpist, is here to show us why we need to incorporate music and the arts in a professional arena to help us move to a higher level of thinking, being and creating.
Amy Camie is a certified clinical musician, inspirational speaker, award winning recording artist, author, and co-initiator of The ORIGIN Methodology of Self-Discovery.
Amy uniquely combines 35+ years as a professional harpist, decades of personal self-discovery, being adopted, and two journeys with breast cancer into fresh and relatable insights that empower others to compassionately embrace the fullness of who they are, transforming chaos into harmony within and around them.
As a pioneer in the field of harp therapy, Amy has co-authored several studies exploring how her solo harp music increases brainwave function, supports the immune system and reduces pain, distress and anxiety levels.
Her expertise has been featured in print and media including: FOX2 NEWS, The Catherine B. Roy Show, Thrive Global, BIZCATALYST 360, Well Defined, The Wellness Universe, Uplift Connect, Energy Magazine,and Musicians Unite.
She is a thought leader on building relationships within ourselves and with other people and shows us how to use music to enhance this journey.
This is an interview that will challenge you to think, reflect and empathically connect at a higher level.
Enjoy!
7 Gems of Intercultural Creativity:Connect, Create and Innovate Across Cultural Lines
I AM CREATIVE by 3 year old Shawn T. Letford
This episode is produced by CAFFEstrategies.com – an industry leader in intercultural creative thinking development and the home of the 16 Diamond Tools of Creative Thinkers and the 7 Gems of Intercultural Creativity!
The mission of CAFFE Strategies is to equip organizations with strategies of Intercultural NeuroCreativity that supports their DE&I goals. Intercultural NeuroCreativity is a unique type of training that develops intercultural competence (which is needed for inclusion and belonging) primarily using creative thinking strategies and cognitive processes, which is needed for value creation.
In addition to utilizing our 7 Gems of Intercultural Creativity methodology, the other creative thinking strategies used in our trainings include divergent thinking, reframing, un-obvious associations, combinatory thinking, metaphorical processing, transformation ideation, and imagination development, to develop intercultural competence, self awareness, cultural-awareness and creative thinking.