How Does the Body-Mind Connection Affect Your Creativity? Somatic Wellness Specialist Tamara Jeffries Episode #77
November 4, 2021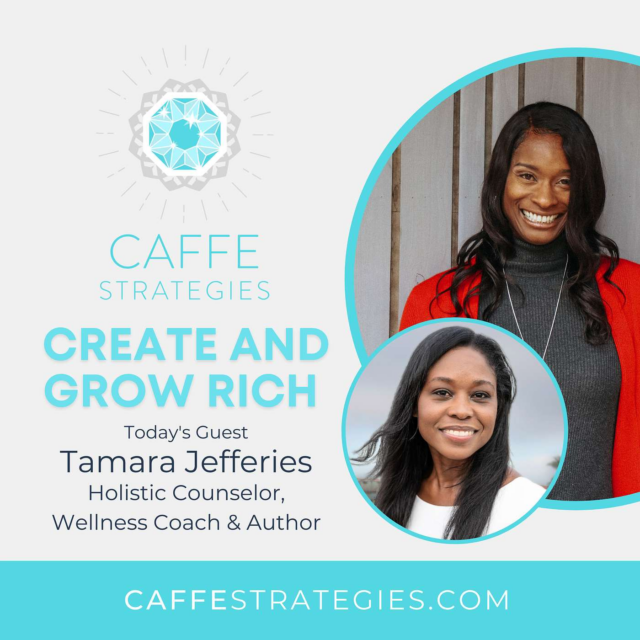 Have you ever been curious about your body and the emotions you have? Your body is an instrument of thought. So knowing what it is thinking and why is the main reason we have Tamara Jefferies on the Create and Grow Rich Podcast.
Specializing in somatic psychology, she explains that everything that happens to us lives in the body. This affects our interpersonal relationship and our creative thinking. We need to let the body express it out.
Giving yourself time and freedom to process emotions, such as grief, disappointment and joy helps us process them fully. Listen in on this critical topic and see how it connects to workplace trauma, COVID resilience and overall intercultural creativity.
The mind body connection is a connection that is a critical component in our wellness journey. Enjoy the show!
Book Information!
7 Gems of Intercultural Creativity
This episode is produced by CAFFEstrategies.com – an industry leader in intercultural creative thinking development and the home of the 16 Diamond Tools of Creative Thinkers and the 7 Gems of Intercultural Creativity!
The mission of CAFFE Strategies is to equip organizations with strategies of Intercultural Creativity that supports their DE&I goals. Intercultural Creativity is a unique type of training that develops intercultural competence (which is needed for inclusion and belonging) primarily using creative thinking strategies and cognitive processes, which is needed for value creation.
In addition to utilizing our 7 Gems of Intercultural Creativity methodology, the other creative thinking strategies used in our trainings include divergent thinking, reframing, un-obvious associations, combinatory thinking, metaphorical processing, transformation ideation, and imagination development, to develop intercultural competence, self awareness, cultural-awareness and creative thinking.