Gemify Your LIfe – A Review of the 7 Gems of Intercultural Creativity – Diamond Mentor Moment #20 – Genein Letford, M.Ed
November 25, 2021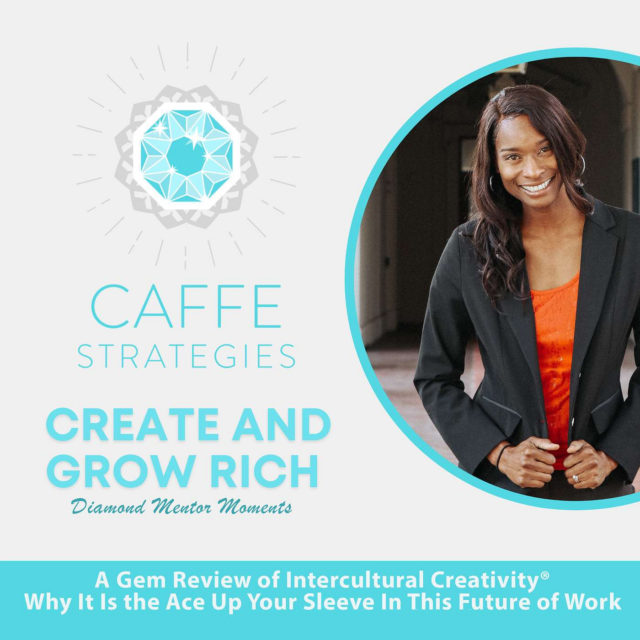 Repetition is the key to retention.
My old boss would say those words and he was right. So that is why we are reviewing the 7 Gems of Intercultural Creativity in this Diamond Mentor Moment.
Studies now show that technology is moving so fast, that half of the tech skills you are learning today will be obsolete in five years. But the competencies held within the 7 Gems of Intercultural Creativity will never go out of style.
We will always need:
-A Growth Mindset
-An  Empathetic Mind
-Observation
-Curiosity
-Perspective shifting
-Authentic Adaptation
-Creating and Connecting Across Cultures
These are not the skills of tomorrow, these are the skills of today.
Enjoy!
The mission of CAFFE Strategies is to equip organizations with strategies of Intercultural Creativity that supports their DE&I goals. Intercultural Creativity is a unique type of training that develops intercultural competence (which is needed for inclusion and belonging) primarily using creative thinking strategies and cognitive processes, which is needed for value creation.
In addition to utilizing our 7 Gems of Intercultural Creativity methodology, the other creative thinking strategies used in our trainings include divergent thinking, reframing, un-obvious associations, combinatory thinking, metaphorical processing, transformation ideation, and imagination development, to develop intercultural competence, self awareness, cultural-awareness and creative thinking.
7 Gems of Intercultural Creativity Book