Episode #98 – Being Unashamed, Unafraid, And Beautiful Even In The Face Of Creative Abuse with Jozanne Marie
February 13, 2023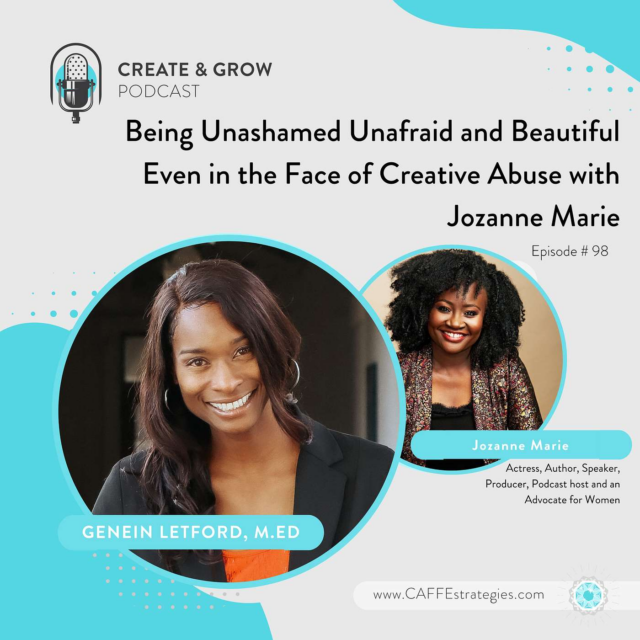 Episode 98: Being Unashamed, Unafraid, And Beautiful Even In The Face Of Creative Abuse


*Disclaimer: There are sensitive subjects are addressed in this episode. Listener discretion is advised.
Experience changes the brain and affects our creative identity. Therefore, when our childhood or early life involves any type of abuse, it affects the way we see ourselves, our environment and others. Trauma literally changes the brain.
Jozanne Marie bravely shares her story of dealing with childhood abuse and the journey it took to heal herself, her creative identity and rediscover her beautiful peace.  Jozanne Marie is an acclaimed actress, author, speaker, producer, podcast host and an advocate for women. 
Her newly released memoir, BEAUTIFUL, Unashamed and Unafraid is touching lives around the world and is now being adapted into a feature film by one of Hollywood's top entertainment companies.
Jozanne Marie is the CEO at Double 8 Entertainment and uses storytelling, media, and entertainment to provoke thought, introduce change and inspire hope in order to make the world a better place. The Jamaican born multi-talented artist is also a NAACP Theatre Awards WINNER for Best Solo Show – BEAUTIFUL, which she also wrote, performed and produced about her journey. BEAUTIFUL has garnered critical acclaim by various news outlets, magazines and celebrities. It was also selected for Critic's Choice in the LA Times and Best of the Week in LA Weekly. This journey led Jozanne to start the National Beautiful Campaign. 
In this episode, we talk about her journey, her creativity and what helped make her healing process beautiful. And on a more lighthearted note, what role does shoes play in Jozanne's journey, and how important it is in her daily life? Her line of shoes, Run Tings Shoes are showcased at the top stores and making waves in the fashion world.
She is beautiful.
Enjoy the show!
Topics Covered in this episode of The Create and Grow Podcast:
01:54 – Who is Jozanne Marie?
[03:32] – The Art Of The Beautiful Book
06:39 – The Beauty Of A Healing Process
[14:21] – Translating Pages To The Stage
[19:38] – How Do Shoes Play A Part In Jozanne's Life?
[29:22] – Jozanne's Final Gem
Subscribe:
Connect with Jozanne Mari:
●         LinkedIn Jozanne Marie
●         Website JozanneMarie
Connect with Genein Letford:
●   Visit CAFFE Strategies
●     Visit GeneinLetford.com
●   Follow Genein on Facebook
#CAFFEStrategies #Intercultural #Diversity #InterculturalCreativity #Creativity #Healing #Double8Entertainment #JozanneMarie #Beauty #Shoes