Episode #93 – Living a Creative Life of Purpose
July 18, 2022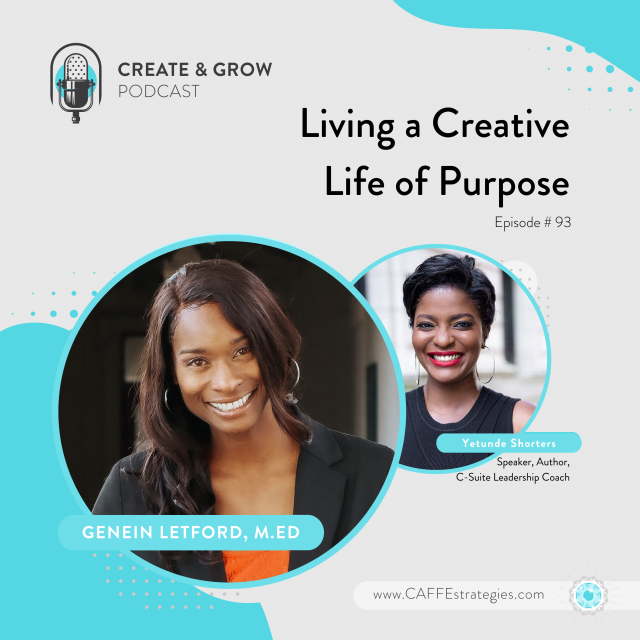 Episode 93: Living a Creative Life of Purpose with Yetunde Shorters
Yetunde has a calling, and it's crystal clear – to guide women in discovering their life's purpose so they can impact lives, brand their business, and earn profits confidently!
Yetunde believes the world would be more joyful, compassionate, and kind if everyone stepped fully into their purpose. She has made it her mission to find the answer to the question, "Why is it so difficult for humans to be kind to each other – not nice, but truly kind?"
A fervent globetrotter, Yetunde is fluent in two languages, Yoruba and English, and has been to over 88 cities all across the world. She has more than 20 years of experience in People Relations and Branding and worked with more than 700 entrepreneurs.
Topics Covered on this episode of The Create and Grow Podcast:
[01:09] – Introduction to Living a Creative Life
[04:23] – The Consistent Theme for Most People is Worthiness
[06:31] – Personal Branding's Purpose is not About You!
[12:39] – Particular Exercises that Embodied Connection in terms of Mindfulness
[14:57] – Brain-Centric Instructional Design Program
[17:18] – Understanding How the Integral Brain Steps up into a Level of Purpose
[19:59] – The Amygdala Hijack
[22:05] – Coming Up with Content on Each Lobe
[24:52] – Adults Learn in Multiple Perspectives
[26:23] – The Lack of Financial Literacy and Creativity Affects the Workforce
Subscribe:
Connect with Yetunde Shorters :
Connect with Genein Letford:
#PerspectiveShifting #SeeingYourLifeFromAnOutsidePerspective #CAFFEStrategies #Intercultural #Diversity #InterculturalCreativity #Creativity #InterculturalCreativity #innovation #HowtoBeAnInterculturallyCreativeCommunicator