Episode #92 – How to be an Interculturally Creative Communicator with Monique Russel
July 5, 2022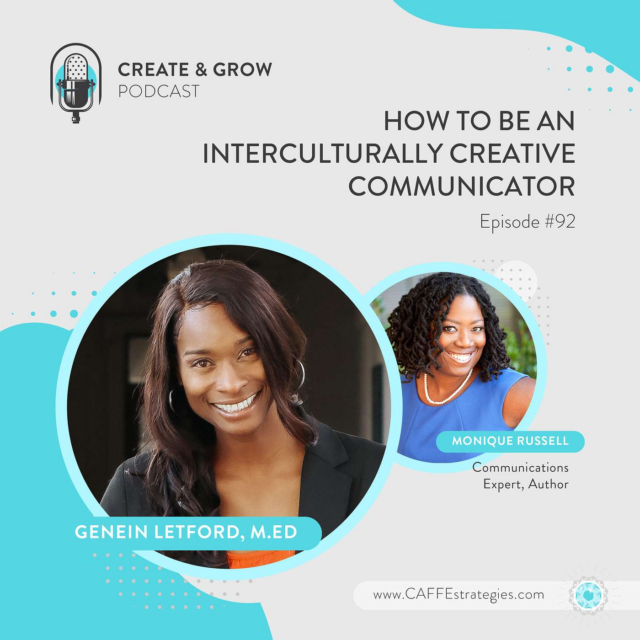 Episode 92: How to Be an Interculturally Creative Communicator with Monique Russel
Communication is critical and language is powerful. Language can influence the way we see ourselves, others and the creative potential of us all. Monique Russell, the Communication Coach, shares her wisdom to guide us to craft our words and melodic messages to get our message across to the masses. Come learn how to use language to improve your Intercultural Creativity!
Monique Russell is the communications expert you want on your team. She teaches women leaders and teams how to have positive and productive relationships at home and work using effective communications tools and strategies.
Fill your mental universe with more diamond stars to enhance your creativity!
Topics Covered on this episode of The Create and Grow Podcast:

[01:09] – Introduction to How to Be an Interculturally Creative Communicator
[02:27] – Work With Monique to Build Confidence and Rediscover Self
[03:16] – Communication: A Huge Role in Creative Thinking and Ideation
[05:00] – Enhancing Observational Skills is Enhancing Creativity and Communication
[06:43] – The Looks of Authentic Communication
[11:21] – Tips on Saying No in a Polite Way
[16:08] – Advice on Executive Presence
[20:26] – Art Plays an Important Role Too
[25:50] – Monique's Book about Motherhood
[30:59] – Self-Awareness is Key
[35:49] – Joining the Toastmasters Groups
[41:03] – Connect with Monique
[41:56] – Monique's Final Gem
Subscribe:
Connect with Monique Russel:
Connect with Genein Letford:
#PerspectiveShifting #SeeingYourLifeFromAnOutsidePerspective #CAFFEStrategies #Intercultural #Diversity #InterculturalCreativity #Creativity #InterculturalCreativity #innovation #HowtoBeAnInterculturallyCreativeCommunicator