Episode 89 – Cuisine, Culture and Finding Creativity Within Our Food with Mareya Ibrahim-Jones
May 30, 2022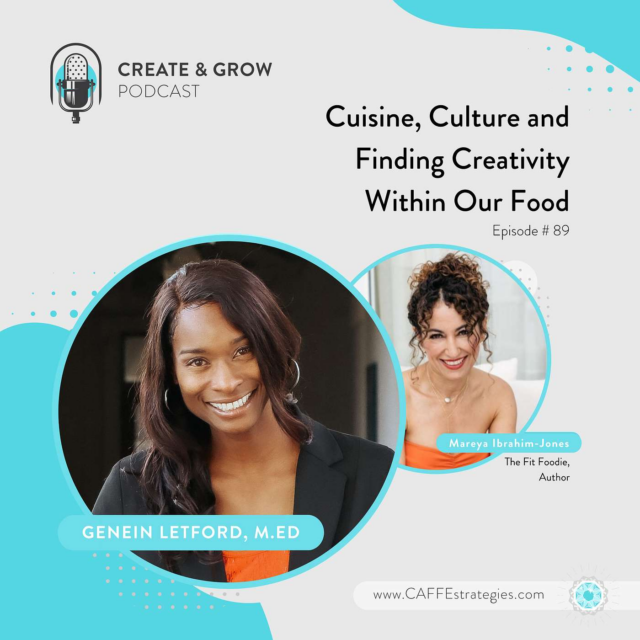 How does being wise and creative with our food help us be more innovative in life? The 'Fit Foodie' Mareya Ibrahim-Jones is here to share her wisdom!
Mareya Ibrahim is "The Fit Foodie" – Clean eating and food safety expert, patented inventor of Eat Cleaner and the Grow Green line of products, author of the book Eat Like You Give a Fork: The Real Dish on Eating to Thrive and podcast host of Recipes for Your Best Life. Chef, holistic nutritionist, and wellness warrior. Mareya was featured on the Emmy-nominated cooking show 'Recipe Rehab' for three seasons. She's been seen on the Food Network and has been on over 200 cooking shows.
Genein and Mareya talk about the intersection between our creative thinking, how food influences brain power and how the dinner table increases cultural connections across cultures and generations.
Get your knife and fork ready for an enticing episode of creativity!
Topics Covered on this episode of The Create and Grow Podcast:
[04:55] Creative Thinking and Our Food
[07:00] – Integrated Brain is a Healthy Brain
[11:33] – Think Before You Bite
[14:05] – Parents CAN Make A Difference
[17:50] –  Environmental Observation for our Creative Thinking
[20:38] – Sprout Kit and A Bag of Seeds
[23:48] – Financial & Cuisine Literacy Should Be a Part of School
[26:27] – Fat is Actually Not a Bad Thing
[32:12] – What are Macro Nutrients?
Subscribe:
Connect with Mareya Ibrahim-Jones:
https://www.instagram.com/eatcleaner/
Connect with Genein Letford:
#PerspectiveShifting #SeeingYourLifeFromAnOutsidePerspective #CAFFEStrategies #Intercultural #Diversity #InterculturalCreativity #Creativity #InterculturalCreativity #innovation #CuisineCultureandFindingCreativityWithinOurFood