Episode #86 – How Your Creative Wealth Affects Your Financial Wealth with Bob DePasquale
May 9, 2022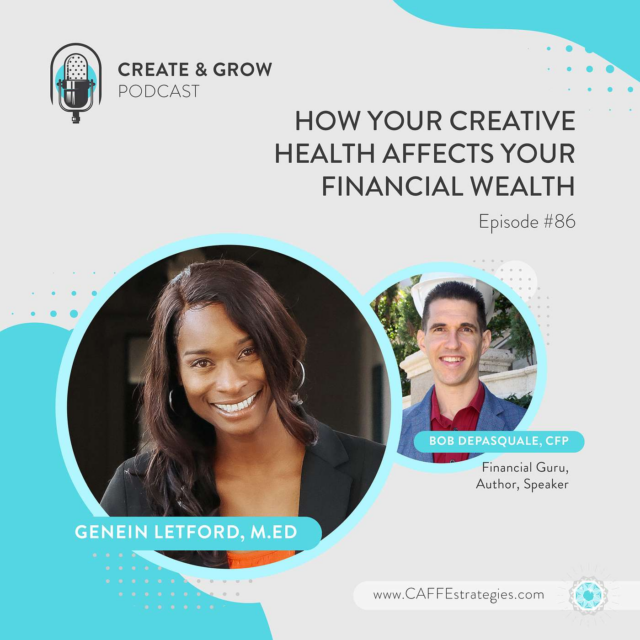 Did you know your creative thinking ability affects your financial wealth? Did you know that your relationship with money is also affected by your cultural lenes?  Bob is here to share how these concepts are connected and how to build a solid financial foundation with these connections in mind.
In today's episode of The Create and Grow Podcast, we speak with Bob DePasquale.
Bob is an advocate of stewardship. He has always believed in taking care of the things that he has been blessed with. It is his mission to help others in doing the same.
Bob's perspective derives from a battle with cancer at age 18.  Having his life threatened at such a young age leads to a unique view of the gift that is vitality.
 Bob is also a Certified Financial Planner Board of Standards Inc. owns the certification marks CFP, CERTIFIED FINANCIAL PLANNER and federally registered CFP (with flame design) in the United States, which it awards to individuals who successfully complete the CFP Board's initial and ongoing certifications requirements.
Enjoy learning how your creative health and relationship with money affects your financial wealth.
Topics Covered on this episode of The Create and Grow Podcast:
[00:00] – Introduction to Making a Way with Compassionate Leadership for C-Suite
[02:35] – Get to Know Bob DePasquale
[07:00] – Stand Out Story from Bob's First Book
[09:54] – First Step to get Creative with Money
[12:57] – Thoughts on Culture with Money Attached to One's Self-worth and Identity
[26:20] – Intercultural Creativity Aspect of Giving
[36:53] – How Intercultural Creativity is Connected to Intercultural Interactiveness
[38:44] – Cultural Curiosity
[40:58]- Learn More about Bob
Subscribe:
Connect with Genein Letford:
 Connect with Bob DePasquale :
 #PowerOfJournaling #PerspectiveShifting #SeeingYourLifeFromAnOutsidePerspective #CAFFEStrategies #Intercultural #Diversity #InterculturalCreativity