Episode #85 – Making a Way with Compassionate Leadership for C-Suite with Tara Jaye Frank
May 2, 2022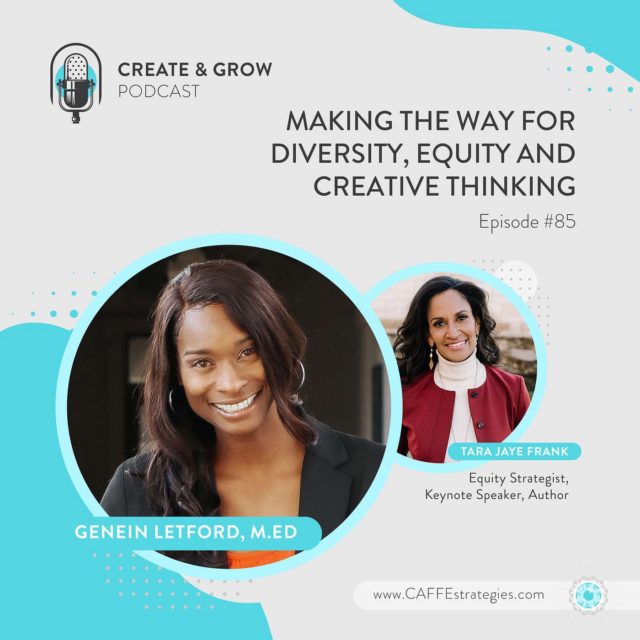 Are you leading the way for others? If you need to know how, Tara is here to lead the way!
In today's episode of The Create and Grow Podcast, we speak with Tara Jaye Frank.
Her work, fueled by a deep belief in the creative power and potential of everyone, focuses on building bridges between people, ideas, and opportunity.
Before founding her culture and leadership consultancy, Frank spent twenty-one years at Hallmark Cards, where she served in multiple executive roles, including Vice President of Creative Writing and Editorial, Vice President of Business Innovation, Vice President of Multicultural Strategy, and Corporate Culture Advisor to the President. Tara Jaye Frank resides in Dallas, Texas, with her rockstar husband, two of their six children, and their three dogs. She is also a proud Spelman Alumna, and a member of the Executive Leadership Council, the Network of Executive Women, and Delta Sigma Theta Sorority, Inc.
Topics Covered on this episode of The Create and Grow Podcast:
[00:00] – Introduction to Making a Way with Compassionate Leadership for C-Suite
[03:15] – Who Is Tara Jaye Frank
[07:30] – What can People Start Doing on Leadership for C-Suite
[10:06] – Focus on the Norm
[14:30] – Tara's Take on Cultural Competence
[17:45] – Activities for C-Suite
[21:26] – Why Cultivate Self-awareness?
[25:50] – Guard Your Ego
[28:49] – The Work of Carol Dweck Growth Mindset
[34:04] – The Employee Centric View
[38:22] – Adaptability to All
Subscribe:
Connect with Genein Letford:
 Connect with Tara Jaye Frank :
https://wearethewaymakers.com/ 
 #PowerOfJournaling #PerspectiveShifting #SeeingYourLifeFromAnOutsidePerspective #CAFFEStrategies #Intercultural #Diversity #InterculturalCreativity