#Episode 84 – The Bridge Between the Boardroom and the Stage – Theo Caesar
April 25, 2022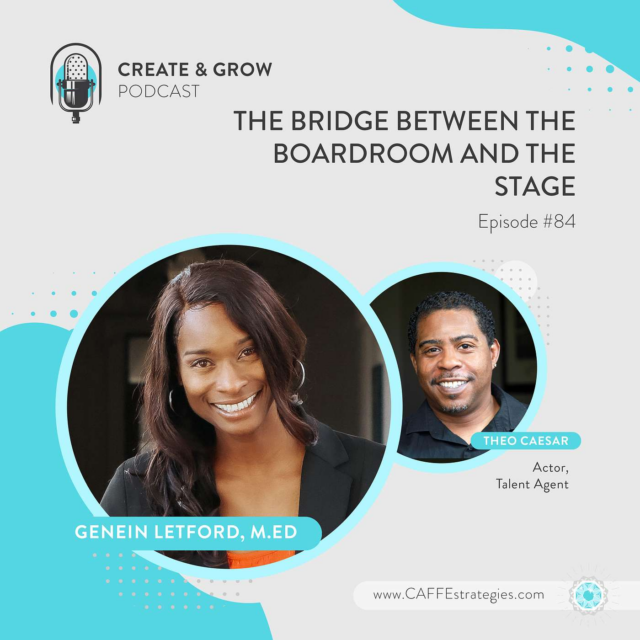 How does theater arts help you in business? Well Theo is here to highlight the connections!
Bronx, NY native Theo Caesar began his career as a professional actor at the age of 10. From his first commercial, which was filmed in the original office of MTV in the 80s, to his first feature film role in "Police Academy 3", it was obvious that there was a positive chemistry between young Teddy Abner and the entertainment world. Theo left NYC and Acting to pursue a career in music writing, production and performing in Hampton Roads, VA.
In this episode, Theo shares with us how Creativity relates to working in 90210 Talent Agency. Theo also states that as far as the entertainment world, it's about people who are writers, producers and people who have the vision for pulling together the idea for the show but then there's a bunch of different things that you have to be creative about. There's creative marketing, there's creative financing, there's creative ways of pulling together, different resources and networking. For Theo, this creativity is tremendous in their industry.
On this episode of The Create and Grow Podcast, you'll hear:
Defining Creativity in a Talent Agency
Arts as a Big Component in Increasing your Creativity and Knowledge
Theo's Learning that Helped Grow His Talent Agency
Subscribe:
Connect with Genein Letford:
 Connect with Theo Cesar :
Time Stamps
[00:00] – Introduction to The Bridge Between the Boardroom and the Stage
[01:37] – Defining Creativity in a Talent Agency
[14:00] – Arts as a Big Component in Increasing your Creativity and Knowledge
[25:33] -Theo's Words of Wisdom 
 #PowerOfJournaling #PerspectiveShifting #SeeingYourLifeFromAnOutsidePerspective #CAFFEStrategies #Intercultural #Diversity #InterculturalCreativity