Tokyo Traditions
July 9, 2014
After many trains and subways, we finally reached Tokyo. My Hilton Ambassador, Chikoto, did a wonderful job showing us the cultural aspects of Japan but we really valued her showing us the train/subway systems! Valuable information I tell you. Valuable.
Going through the Tokyo station was like going through a well lit, crowed yet impressively clean maze (but NO trash cans?!?). With tons of shops and restaurants, if I were going to get extremely lost (like Tom Hanks in Terminal), this was the place to do it. There is a slim corridor called 'Ramen Street' where famous little Ramen restaurants serve the best ramen in the world.
Even though I came to Japan to experience the Japanese culture through the arts, as we were devouring the best ramen on Earth, Cher was crooning in the background reminding me to 'believe in life after love!'. American music is ubiquitous.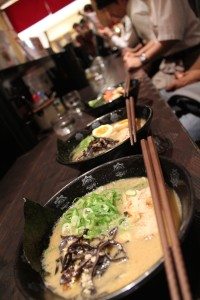 We then headed towards the Imperial Palace and the East Gardens. Though visitors can't actually visit the palace (it's only open on certain holidays and national celebrations) the surrounding gardens were quite exquisite. Even the sign that marked 'Electricity' could be construed as art.
Since we just jumped out of a plane a few weeks ago, we thought, 'What's the next dangerous adventure should we try?"
Answer: Riding a RICKSHAW!
This thrill seeking quest brought us to Asakusa where we instantly met Suzuki, our overzealous yet informative rickshaw driver. He took us from the Kaminarimon Gate all around Asakusa and its striking landmarks to complete our tour at the Senso-ji Temple. It so happens that on July 9th and 10th, many Japanese visit this temple to celebrate the 'Shiman Rokusen-nichi' which means 'day of 46,000'. They believe that if you visit the Senso-ji Temple on this day, you get credit for visiting the temple for 46, 000 normal days. Talk about a good deal!
How many years is 46,000 days?
People were also carrying around these vibrant red balled plants and it seemed almost every booth was selling them in some form or fashion. What their meaning is still escapes me but I did find out they are called hozuki (ground cherry) plants. Maybe they bring good luck? Not sure, but they sure did bring a smile to my face! 🙂