South Korea: The Beauty and Her Beast
July 16, 2014
After flying from Hiroshima, Japan to Seoul, South Korea we embarked on a long bus ride to the east coast to Gangnuem. Though this was no Shinkansen (Japanese bullet train), traveling through this Korean countryside was relaxing within itself.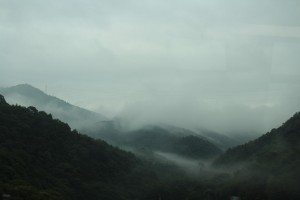 The mountains during the ride from west South Korea (Seoul) to the eastern part of the country.



We visited the Odaesan National Park, passing several waterfalls along our hike through the Sogeumgang Valley. Roaming the city we also found the Olympic Rings (I'm not sure if any events were held this far away from Seoul but I really wanted a picture of the rings because these were the first Olympics I can actually recall in 88′). 




Not only am I here to view cultural and artistic aspects of these beautiful countries but also interact with the people and hear their stories. Of course this is a bit difficult due to the language barrier but we happened to run into a mother and daughter pair who were guests of the hotel we were staying at. 

Even though they currently live in the US, they were both born in South Korea. With the mother being in her early 80's, she was in South Korea during the Japanese occupation and the Korean War. I knew I had hit gold with this opportunity to sit with a primary source of this painful period in Korean history. And this pain seeped though her voice like sand through a sive. It eerily reminded me of my grandmother's pain of coming of age in a pre-civil rights America and Shayne's grandmother's struggles in an English-controlled Jamaica. It struck me that even though we appear different, many of our struggles are the same. 

Sitting with her, I didn't speak. I just let her pour out her frustrations and hurt. It looked like she longed for an ear to listen. And I was happy to be that ear. From being barred from speaking her native language in school to the controversy of 'Comfort Women', she stated that all they sought was an official apology. We discussed the role of 'Aririang', a national folksong, and its role in helping assuage their painful past. Great insight to how the arts can help not only tell stories but assist in the recovery of national pride. 

Video of Arirang 
'Arirang is Korea's most representative folk song. Like many other folk songs, nothing about its exact history is known. Arirang has decended from mouth to mouth. There are many version of Arirang composition base on the region. The most famous version is Gyeonggi Arirang.' 
My 1st graders sang this song and did small dance a few years back.

On a lighter note, we also befriended the hotel assistant/cook, Mr. Guk. His English was good and his humor was on point. Laughter was certainly not scarce when in his presence. If we lived here, he would certainly be one of our friends. 


Now onto Seoul!