Linking Our Students In: My Challenge to the Founder of LinkedIn: Allen Blue
November 19, 2016
Refreshments. That's all they really need to put on an invite to get me in the room. Putting Allen Blue, the co-founder on LinkedIn on the invite helped too, but it was really about those LinkedIn donuts that sold me.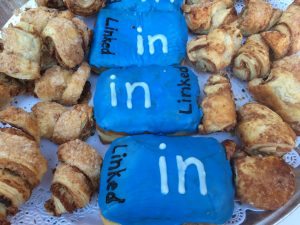 Little did I know that attending the CSUN Business School's Speaker Series would provoke some questions to stir within me about our educational system.
THE DANGEROUS DISCONNECT
Upon meeting Allen Blue at CSUN, I immediately asked him, "Why is there such lack of communication between the K-12 community and the professional community? If it is our job to prepare the workforce for the next decade and on, and with so many things changing, shifting and being disrupted, how can we get this done effectively if no one is talking to one another?"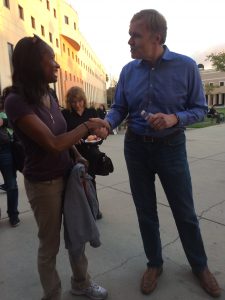 Elementary doesn't talk to middle schools who don't connect with high schools. K-12 doesn't collaborate with higher ed and sometimes it seems like the professional world is in another universe.
I'm in a unique position where I see this first hand. I teach at an TK-5 elementary school. I am the founder of Alumni360, a mentorship group for 6th – 12th graders and I also am a part time professor at Cal State Northridge. Within one week, I'll have a four old year student asking me to tie their shoe, then I'll have a conversation about college applications and later that same evening I'm at CSUN viewing pictures of my graduate student's grand babies.
I see the whole continuum.
LEFT OUT OF THE CONVERSATION
There is a dire need for better communication between all of these groups. We need professionals who are willing to use some of their valuable time to connect with students, educators and policy makers to make sure we have access to the most up to date information. With this information, our students will be better prepared with the tools needed to succeed in this ever changing marketplace. We can't wait until our students are in college to start making those connections and planting those seeds. The time is now.
Students leave my fifth grade class by ten years old. By that age they have already built their belief systems about themselves and their abilities and have solidified foundational structures for maneuvering throughout their world. So when we, the elementary cohort, are left out of the conversation, you're leaving out the most critical time in a students' developmental journey out of the conversation. And we all pay that costly price.
WHAT'S OUR PART?
I try not to harbor on the problems for too long and focus on redirecting my energy to being a solutionary. Here's how I'm addressing this need but I still need your help. At my elementary school, I founded 'College and Career Week' back in 2006 where we allocate a week of celebrating higher ed and people in the workforce. Speakers come in and talk to the little ones and my young students get exposed to new routes to -and new ideas of- success that they weren't aware of before.
In 2014 I also founded Alumni360, a mentorship group for the graduates of my elementary school. This is like "College and Career Week' on steroids! I use my professional network (and prayer) to connect my bright students from low-income backgrounds with top professionals and thought leaders throughout various industries. Kevin Carnes, the president of Lakeshore gave my students a personalized tour of the backend of how a successful business works. Kathy M. an ALUMNI360 10th grader, interviewed Suzi Weiss-Fischmann, the founder of OPI Nails, on being a successful business woman during a time women did not hold leadership positions. John Murray, a Toastmasters Division Director, led my students on a workshop on speaking effectively in professional arenas.
It's these connections that end up changing the trajectory of our students who don't normally have access to this type of cognitive capital.
COLLABORATION ACROSS DISCIPLINES
My last and most recent attempt to address this lack of conversation and lack of collaboration was at our first Alumni360 Senior Dinner.
Even though I believe this line up was an answered prayer, I also think it could have been a subconscious move to replicate the board of Donorschoose.org that I was invited to join. The team of superheroes on the Donorschoose board consists of Jeff Weiner, CEO of LinkedIn, actors Stephen Colbert and Yvette Nicole Brown, Carolyn Everson VP of Facebook, Richard Lovett president of CAA, Fred Wilson, Trabian Shorters and other impressive thought leaders in various field, and is the perfect example of collaboration across disciplines for the most optimal result for the success of the organization.
Being inspired by that group, I gathered six top mentors, including Ash Sobhe, CEO of a successful tech company, Joseph Jefferson, an engineer at NASA, Cynthia De La Cruz, a political science UCLA student and other thought leaders in various disciplines, to mentor my five seniors that I've known since 2005. That night was magical and a true example of how the power of a network can bring positive benefits for our youth.
So let's start talking to one another and to our youth because in the end, we're all on the same team and we all want our students to have the tools they need to live their best life!
PS
And if Allen Blue wants to come speak to my Alumni360 students, our door is wide open!