Is College Still Worth It? Two Critical Skills To Accompany that Degree
July 14, 2019
I just sent my little ones off to college this past month. As I looked around the table at my graduating seniors of my non-profit, Alumni360, these seven young women (who started with me as kindergartners) were about to embark on a journey like no other; the undergraduate experience.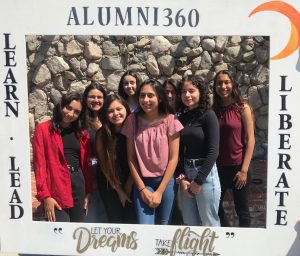 While the other mentors shared their advice with the group, questions continued to race around my mind as I thought of the student debt number that continues to climb:
Is college still worth it?
This was the headline of the webinar I attended by Asset Funders Network, which investigated if college is still worth the growing debt investment in the long run.
Overall their answer is yes. Education is still strongly correlated with wealth, though the returns on people's potential to build wealth have been diminishing as time as passed. For instance, a black person obtaining a 4-year degree in 1930 had 509% of increased wealth but only a 6% increase change in wealth by the 1980's compared to those without a degree. Income returns have increased as well but also have diminished as time has passed.
So if college is still worth it for most, how do we prepare our students to benefit the most from one of the largest investments they will make in their life? During our senior brunch, I warned my students that just getting a degree isn't going to cut it anymore. You will need to be strategic during your collegiate experience.
Here are my two main reasons why: Rising student loans and the 4th Industrial Revolution
Rising Student Loans
Most of my Alumni360 students are from families that have low wealth. They all qualified for 'full financial aid'. This 'aid' included over $40,000 worth of loans throughout their college career. This staggering debt will be a huge hit against their ability to pay normal living expenses, reach life milestones, as well as build wealth for their families. Alumni360 supports them to find scholarships and discover opportunities to lower this debt number as much as possible, but this is still a daunting forecast to embark upon.
The 4th Industrial Revolution is Here
Technology is evolving at a lightening speed. My five years at UCLA was a calm enjoyable experience. The iPhone wouldn't make its appearance for another half decade. Now, with the advancement of technology and the fourth industrial revolution we are in, four years in college is a very LONG time. With the effects of artificial intelligence, robotics, machine learning, and augmented/virtual reality on the workforce, academic content my students learn their freshman year could very well be obsolete by the time they turn that tassel four years later. Lifelong learning is no longer a luxury but a mandate. Here are two sets of skills my students are now required to be aware of: network and skill set awareness.
Your Network is Your Net Worth
Since Alumni360 is here to give our students the tools that are missing from their K-12 experience, the importance of building your network is a skill we spend time on. I had the opportunity to interview my fellow BMe Vanguard scholar, Isaac McCoy, who is the Dean of Business at Stillman College. He had an enlightened concept of going 'past the degree' and making sure his college students gained as much value from their higher education experience as possible.
"Knowing your network and truly understanding your skills and abilities and the value they bring to the network or organization is crucial," he says.
"You can earn a degree but if you have no network, you're working at a coffee shop. Likewise, you can earn a degree but if you don't understand your skill set or know how to effectively communicate those skills, I can sit you in front of my impressive network and all you will have is a good conversation."
This was refreshing to hear because so many people keep saying, "Get your college degree!" and our students don't realize the almighty degree is not a complete package. There are other critical components to a successful professional journey. I told my seniors, "I'd rather you get B's and know how to network, negotiate and communicate effectively than get straight A's but can't connect with anybody. You'll see how imperative learning how to connect and communicate is for a successful professional (and personal) experience!"
College Isn't For Everybody But Higher Learning Is
Another point Isaac McCoy highlighted in my interview is the importance of celebrating all types of learning.
"We need to reshape and rethink education and stop devaluing any type of education that is not a 4-year degree. Certifications should be celebrated just as much as getting a PhD," he urges.
"Since this is a process of learning, we should be asking, 'Am I continuing my learning? Am I growing?' How I obtain that learning shouldn't be how we differentiate value. The fact that you challenged yourself to grow, you're finding different mechanisms to add to your skills and abilities and you're growing your network to communicate those skills and abilities is the key."
McCoy's observation is in line with the need to make sure all of our students have viable options to further their learning past high school, even if it is not the traditional 4-year college route. I feel we do many of our students a disservice because the only route highly visible and celebrated is the university path (i.e A-G high school graduation requirements). Many schools are 'college prep' schools when in fact, we should be prepping them for life, not just for college. Some have renamed their programs 'college and career' programs, which is a step in the right direction. College isn't for everybody but higher learning certainly is.
Let's get our students, all of our students, prepared for a life well lived and make sure they know how to assess, grow and communicate their networking and career skills.