I Thanked a Teacher and He Got $10,000!
May 6, 2014
Happy Teacher Appreciation Week!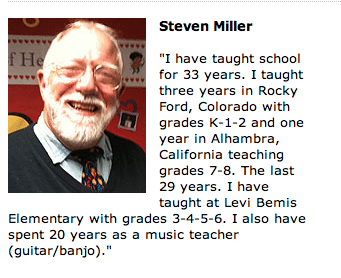 Mr. Steven Miller was my 6th grade general studies teacher and he made me realize that it was ok to be me. It's ok to be crazy and think out of the box. It's ok to go above and beyond other people's expectations of you (though they might think that you're odd). It's ok to not fit in when you were meant to stand out. Genein, it's ok to be the best you!
So I nominated him for the Sondheim Award in 2011 by writing the following essay. After discovering that he won, he contacted me and we taught a class together! Priceless! A simple thank you letter to him would have been sufficient but you know me….Go BIG or go HOME! Thanks Mr. Miller!
Inspirational Teacher Steven Miller
A Story by Genein Letford 
The tie. It was the tie. As I shuffled my feet shyly within a rambunctious group of 6th grade Black and Latino students, we all stood there in suspense to see what type of tie Mr. Miller was showcasing that day. Anxiously waiting in line, we watched as our teacher careened around the corner with a…drum roll… GREEN ELEPHANT TIE that matched his rather large elephant mug! As his glasses hung on for dear life at the tip of his nose, he grinned a silly grin and greeted us with a cheerful, "Good Morning Folks!" Whether sunshine or hurricane, he always started out our day with a joyful salutation.
Eccentric and unique could possibly be words to describe this man but he is the type of teacher that is not easily put in a box. Having an affinity for music, I remember being eager upon hearing his decision to start music lessons with us. He turned on the tape player and me and my other minority, low-income classmates slowly turned our heads toward the sound of John Denver's 'If I Had A Hammer'. Snickers echoed across the room. If it wasn't rap or hip-hop, we didn't recognize it. This John Denver person was singing about hammering in the morning and the evening? WHAT!? The looks on some of my classmates' faces ranged from disgust to bewilderment to confusion. Mine just reflected discovery.
Our teacher, a white man with an eccentric flair, had just opened up a whole new world for me. No longer trapped within the confines of what we were expected to listen to, I now had an emerging love for John Denver, Joan Baez and the many other artists who were hiding behind the doors of cultural stereotypes. Mr. Miller took those these kinds of chances with us. From the graceful art of calligraphy to getting filthy reenacting the gold rush of '49, he was not afraid to give all of himself in his teaching, no matter what our backgrounds were. He was the most innovative and creative teacher I have ever known.
Fast forward 20 years and now there are 40 little eyes staring at my crazy music shirts or weird treble clef earrings as I greet them with a joyful, "Good Morning Class!" I am blessed to teach music to my English language-learning students who happen to reside on the lower rungs on the socioeconomic ladder. Nevertheless, they have garnered a hunger to dance to Beethoven's Fifth, watch Gustavo Dudamel of the LA Phil conduct the Venezuelan Orchestra and create while Duke Ellington mixes his instrumental sounds like a painter on a canvas. I glance at my 2010 Great American Teacher Award I received in November for being a dynamic, innovative, and somewhat eccentric teacher – rather like Mr. Miller. I chuckle to myself wondering which child in front of me will carry this on. Mr. Miller was the pebble thrown in the pond and I pray the ripple never ends.
####
So thank a teacher this week. A note, a letter, an email, or if you want to nominate them and share with the world how they impacted your life, here are a few opportunities going on now!
MLB – Target and PEOPLE Magazine are honoring teachers. Nominate by today, May 6th!
Farmer Insurance has a platform to thank a teacher. Teachers can then submit grant proposal for up to $2500 for classroom projects!
Thanks to all the teachers out there who make a difference for students and teachers alike! A big thanks to my first teacher, my mother, Gwen Jefferson. You are my greatest inspiration and reminder to reach beyond the stars.
Genein Letford
@geneinletford